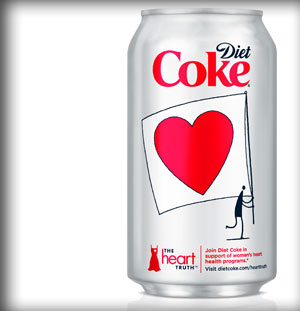 Blow the trumpets. Roll out the red carpet. And tell everyone how you support (insert global health initiative here).
It's happening again. Not that I'm surprised mind you…but it is a bit maddening and somewhat disappointing to see Junk Food Giants attach their name and funding to charitable organizations fighting health epidemics that the very same Junk Food Giants are at least partially responsible for.
Who didn't enjoy watching a portion of the London Olympics this past summer? And as a medalist stepped off the stand, who didn't enjoy watching them gulp down a 64 oz Coke while demolishing a Big Mac? Ok…I may be ever so slightly exaggerating. But it did seem to make for a rather awkward "partnership" to have a corporation that makes sugar/sodium filled beverages, and the fast food mogul of the last century sponsoring a so-called "healthy" event.
So what's the latest health paradox we are witnessing? Diet Coke is sponsoring the Heart Truth Campaign. I know what you're thinking…it's sugar that is linked to heart disease, and Diet Coke has NO SUGAR. And you are absolutely right. But Coca Cola does make dozens of other sugar filled products. In addition, studies have linked diet soft drinks to metabolic disease and other chronic health issues including cancer. Sorry, but to me this feels about as hypocritical as having Philip Morris sponsor a Healthy Lungs campaign.
But hold on…just check out this intro message on Diet Coke's website:
"Hello, Heart Owner
Your heart works every day behind the scenes. This month Diet Coke® wants you to show it off to raise awareness for heart health.
Post your heart-inspired photo on Twitter or Instagram with the hashtag #ShowYourHeart and be entered to win a trip to New York City for Fashion Week. You'll attend the Red Dress Collection Fashion Show and meet our celebrity ambassador, Minka Kelly."
I just wiped a tiny little tear of joy from my eye. There's about three more pages I could write on this topic, but I think this statement sums it up. If Coke really cares about eliminating heart disease, diabetes and a bevy of other ailments they might just consider a novel idea…change their products…or stop selling them.
Eric Carlsen is one of the creators of Carb-Loaded a documentary film that examines the causes of the diabetes epidemic.