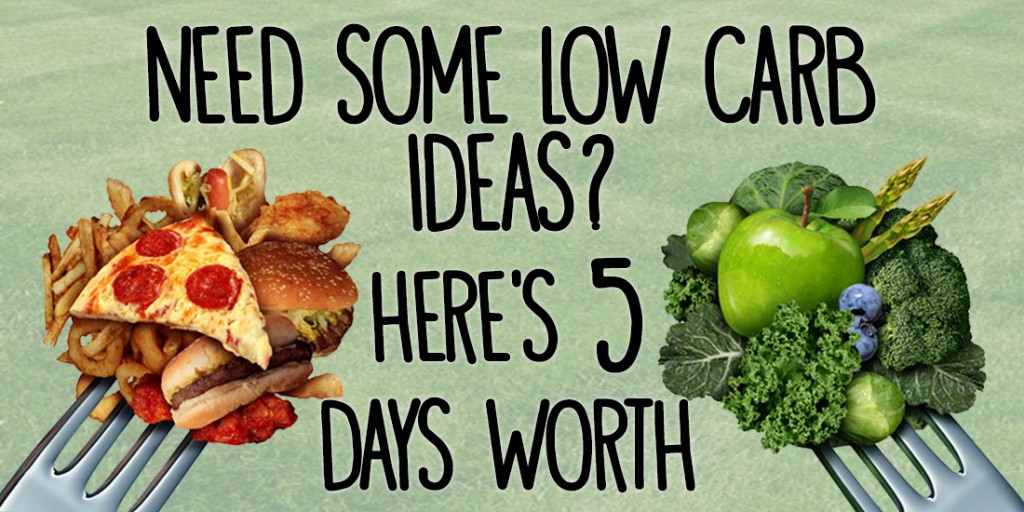 One of the hardest parts of adopting a low carb lifestyle is getting through the first couple of weeks. For many the idea of giving up carbs, which make up such a large part of the Standard American Diet, is unimaginable. People are faced with fears and anxieties when they think about how they what they are going to eat. The good news is it gets easier! Once you learn how to replace carbs with more nutritious and whole foods, you will quickly see the simplicity in this diet, plus your body will start craving these healthy foods.
Meal planning is an important part of this lifestyle, especially in the beginning. Planning ahead and mapping out what you will eat during the week will ensure that you stick to the diet. Here are a few tips to help you get started:
Leftovers, leftovers, and more leftovers: Set aside time for preparation and make plenty of leftovers. Leftovers can be eaten later in the week or the next day for a simple lunch.
Start simple: while you do not want to eat the same thing week after week, having some easy go-to recipes that you repeat often is a great tool for people new to the diet. Over time you will develop a myriad of low carb recipes, but focus on a few to start.
Plan well balanced meals: To keep yourself full and to ensure that you are getting all the nutrients that you need you should construct your meals to have a good balance of vegetables, healthy fats, and a protein source.
Here is a very simple example of a 5-day meal plan to help you get started. These meals are all very simple to make and most of them keep well for leftovers.
Day 1:
Breakfast: Sweet potato hash with scrambled or fried eggs. Sweet potatoes can be sautéed with some onions and garlic and make a great substitute to breakfast potatoes. Make a big batch of sweet potatoes so you can enjoy this simple breakfast again later in the week.
Lunch: Nicoise salad with tuna, hardboiled eggs, and olives. Top with a simple dressing of olive oil, lemon, and your favorite vinegar.
Dinner: Grilled chicken and vegetables. Grilled meat with a side of grilled veggies is a simple go-to meal for anyone on a low carb diet. You can mix things up by making different marinades or sauces to go on the chicken, using different types of meat (steak, pork, or even grilled tofu for a vegetarian option), and rotate a variety of grill-able vegetables. Whatever protein you choose, grill extra to use with lunches later in the week.
Day 2:
Breakfast: Greek yogurt with fruit and nuts. This simple breakfast has everything you need: protein from the yogurt, healthy fats from the nuts, and a probiotic boost.
Lunch: Salad topped with grilled chicken leftover from the night before, avocado, and a dressing of your choice.
Dinner: Grass-fed burgers in a lettuce wrap. There are many great options for low carb hamburger 'buns.' Iceberg lettuce works well, as does romaine. Make a few extra hamburger patties for leftovers. Top with whatever hamburger fixings you prefer! If you prefer something more "bread-like" with your burger try making cauliflower bread.
Day 3:
Breakfast: Leftover sweet potato hash with eggs.
Lunch: Leftover grass-fed burgers- mix it up by adding new toppings.
Dinner: Baked salmon and steamed vegetables. Salmon is full of healthy essential fats, which are an important part of a low carb diet. Bake the salmon on low heat (275 degrees) for 20-25 minutes for a perfectly cooked piece of fish. Season the salmon simply using salt, pepper, lemon, and garlic. Make a little extra to use with breakfast the next morning.
Day 4:
Breakfast: Salmon scramble. Flake leftover salmon into your scrambled eggs for a filling and tasty breakfast. You can also add some cream cheese and red onion.
Lunch: Chicken 'burrito'. Make lettuce wraps using romaine leaves and filled with chicken, black beans, guacamole, salsa, and any other Mexican ingredients of your liking.
Dinner: Pork chops with sauerkraut and mashed cauliflower. Mashed cauliflower (cauliflower which has been cooked and mashed) serves as a substitute to mashed potatoes, and sauerkraut (a fermented cabbage slaw) helps your body get beneficial probiotics.
Day 5:
Breakfast: Bacon and eggs. While you need to leave out the toast and/or potatoes, this typical American breakfast can remain on your regular rotation!
Lunch: Baked tofu over a green salad. Baked tofu is very simple to make ahead. Toss some tofu in olive oil and some spices (salt, pepper, cayenne, and cumin make a nice blend), and simply pop in an oven preheated to 400 degrees and bake for about 40 minutes, flipping the tofu halfway through.
Dinner: 'Spaghetti' and meatballs. There are many fun low carb 'spaghetti' options. You can use a spirilizer to make noodles out of zucchini, or you can use spaghetti squash. Toss in some tomato sauce and top with meatballs for a healthy and balanced meal. If you want to make this dinner even easier top with a simple meat sauce.
Simple snacks for the week: a handful of almonds, beef jerky, carrot sticks and dips, hard boiled eggs, avocado, or smoothies.
Why is this low-carb website named CARB-LOADED?