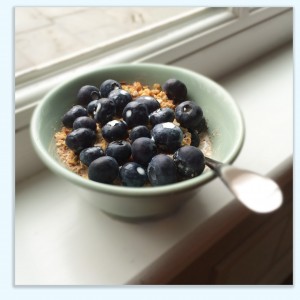 For some, breakfast can be a tricky meal when adjusting to a low carb diet. People often rely heavily on simple grab-and-go breakfast items, whether it's something you have on hand at home, or a muffin or bagel you buy with your morning cup of coffee. Often these simple breakfast options are loaded with carbohydrates, which is a poor way to start off your day. While it does require a little bit more thought and planning, there are many great low carb breakfast items, which are not only nutritious, but can be very simple to prepare. Here are a few tips to help plan low carb breakfasts.
Start the day off right with a well balanced meal:
If you want lasting energy throughout the day, it is best to start the day off with a nutritious and balanced meal. Like other meals, the ideal breakfast should contain a combination of protein, veggies, and some healthy fats. A perfect example is a simple breakfast scramble with eggs (protein), a vegetable medley including things like onions, tomatoes, spinach, and mushrooms (veggies), and cooked in coconut oil and/or topped with some sliced avocado (healthy fats). There are many different combinations you can try and you can add in other protein sources like breakfast sausages or bacon.
Make breakfast ahead of time:
If you do not have time to prepare breakfast in the morning, you may want to plan and cook your breakfasts ahead of time. Here are some simple make-ahead breakfasts:
Hard boiled eggs or an egg salad: Hard boiled eggs not only make a great quick breakfast option, but are an easy snack anytime you feel hungry. Make a big batch on your days off and for breakfast you can grab a couple hard boiled eggs and eat them plain, or whip up a batch of egg salad the night before a busy morning and have an easy breakfast on the go.
Breakfast casserole: Breakfast casseroles are hearty, nutritious, and can feed you for days. Breakfast casseroles are made with eggs and any variety of ingredients. Some examples include sausage, cheese, mushrooms, peppers, and/or onions. Cook down the ingredients (aside from the eggs), combine them with the whisked eggs in a baking dish, and cook in the oven at 350 degrees for about 30 minutes.
Get creative:
When you have some time on your hands, you can make some creative low carb breakfasts and even re-create some of your favorite now off limits breakfast items. Here are a few low carb breakfast ideas for those days when you feel inspired to make something unique.
Chickpea flour pancakes: Combine equal parts chickpea (garbanzo) flour with water and make it just as you would a pancake.
Low carb breakfast burritos: A thin egg white omelet can make a surprisingly durable burrito wrap. Stuff it with your favorite breakfast burrito ingredients and enjoy!
Eggs baked in an avocado: Load up on omega threes with this simple yet creative breakfast dish. Cut a large avocado and scoop out enough filling to make room for a whole egg. Carefully crack the egg into the avocado and bake in an oven heated to 425 for 15 minutes.
Nut Cereal : This is one of my favorites. Lightly chop in a blender 1/8 cup of lightly salted almonds, 1/8 cup of dried apple chips, 1 Tbsp of pepitas (pumpkin seeds), 1 Tbsp of sunflower seeds, 1 Tbsp of coconut flakes, and 1 Tsp of cinnamon. Complete it with your favorite kind of milk (almond, soy, organic milk…etc) and top with a splash of organic heavy cream and blueberries. Yeah that's right! Make cereal using nuts. Just remember nuts are filling by design, a little goes a long way when it comes to nuts.
Bullet Proof Coffee: Another popular option is to make Bullet Proof Coffee. You can buy it pre-made or make your own by blending 1Tbsp of grass fed butter, 1 Tbsp of organic coconut oil and a cup of your favorite organic coffee. You can even add a serving of your favorite portion powder.
Whatever you decide, remember that there are a LOT of low carb breakfast options out there. You might just need change they way you think about Americas most carb heavy meal of the day!
Lathe Poland is one of the creators of the documentary film Carb-Loaded: A Culture Dying To Eat.
Why is this low-carb website named CARB-LOADED?